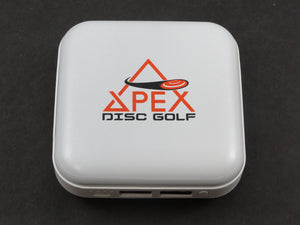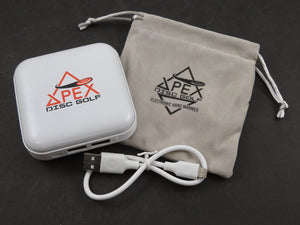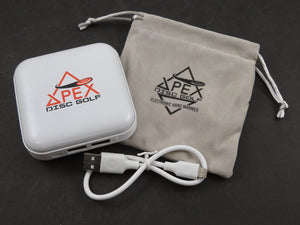 Apex Disc Golf Rechargable Hand Warmer
The Apex Disc Golf Electronic Hand Warmer is a wonderful tool for those who love to play disc golf or other outdoor sports in the cold weather. It is a 10000mA device that will stay hot for at least three hours at the maximum setting. It can be used to charge one or two other electronic devices, like your cellphone, Bluetooth headphones, etc. Or it can be switch to warming mode with four different settings from warm to hot. It includes a charging cable to charge the heating unit as well as a soft case to keep it in, if you'd rather carry a soft pouch in your pocket rather than directly touching the unit. 
If you keep one of these in your jacket or coat pocket, you'll have an instantly warm place to put your hands. Or you can carry it around in your hand while walking from hole to hole. It comes in a convenient 3x3 inch size to easily store in your pocket or in your disc golf bag.
Apex Disc Golf is happy to provide this easy-to-use, convenience, affordable solution to hand warming, with a long enough charge life to last during a tournament.
Easy Instructions:
Short Press the Power Button Once to Turn On Charging Capabilities (blue indicator lights)
Hold the Power Button for 3 Seconds to Turn On Heat (red indicator lights)
Short Press to Cycle Through Heat Levels (1-4)
Hold for 3 Seconds to Shut Off the Unit